The smartphone world is constantly evolving with new models and features being released every year. A frequently asked question when a new device is released is whether the previous version of the case is compatible with the new version. In this article, we will discuss if a Google Pixel 7 Pro case will fit the new Pixel 8 Pro. Also, we will give you our top 4 picks for the best and most protective Pixel 8 Pro cases.
Overview of the Google Pixel 8 Pro
Google Pixel 8 Pro is the latest flagship smartphone from Google. It is engineered with AI at the center, providing users with a more personalized experience. The Pixel 8 Pro has the powerful Google Tensor G3 chip, custom-designed with Google AI for cutting-edge photo and video features and smarter functionality.
One of the highlights of the smartphone is the display. It features a 6.7-inch Super Actua, the brightest display yet from Google. Users can enjoy true-to-life ultra HDR images on their devices.
Google Pixel 8 Pro also offers a high-resolution ultrawide camera with a wider aperture, allowing for better low-light photography and improved image quality. The AI-powered camera system ensures users can effortlessly capture stunning photos and videos.
Let's examine the size differences between the Google Pixel 7 Pro and Pixel 8 Pro cases.
Is the Pixel 7 Pro case same as Pixel 8 Pro?
The most reliable way to determine whether the case designed for Pixel 7 Pro will work with the new Pixel 8 Pro is to look at the dimensions of two phones. When you compare the dimensions, you can see that length, width, and thickness are the same. To find out how they differ, keep reading as we answer: Do Pixel 7 Pro cases fit Pixel 8 Pro cases?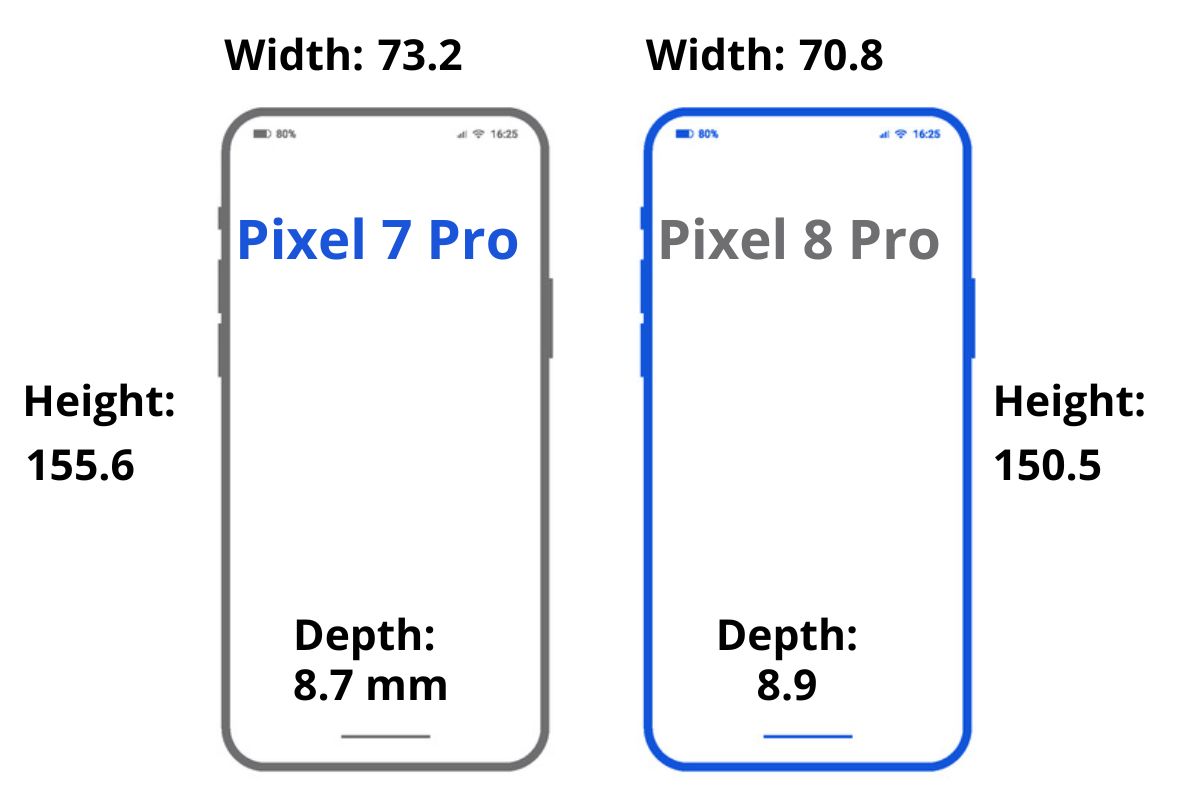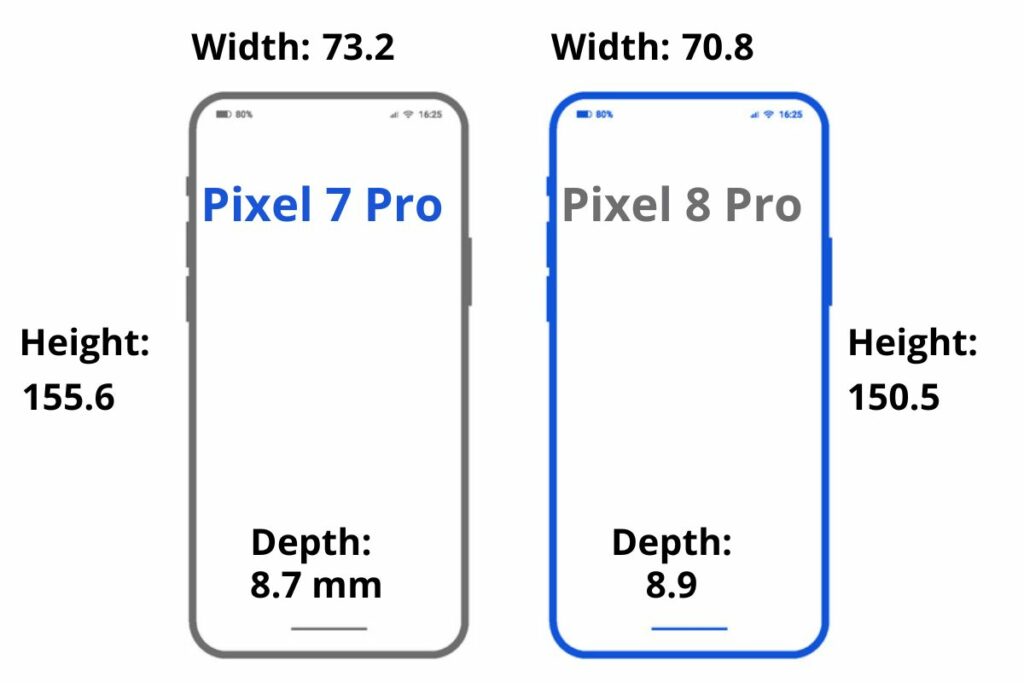 The short answer is No, the Google Pixel 7 Pro case differs from the new Pixel 8 Pro case. The size of the 7 Pro are 155.6 x 73.2 x 8.7 mm, while the Google Pixel 8 Pro size is slightly smaller at 150.5 x 70.8 x 8.9 mm. However, the two phones have different physical sizes and shapes.
Therefore, if you own a Google Pixel 8 Pro and need a protective case. It is important to ensure that you purchase one specifically designed for this model. Using a case meant for the previous generation could result in ill-fitting or ineffective protection for your device.
Investing in a high-quality and properly fitting case will help safeguard your valuable smartphone from accidental drops, scratches, and other potential damages. So, be sure to check for cases labeled specifically for the Google Pixel 8 Pro.
Remember to prioritize style and functionality when selecting your phone case. After all, you want something that offers great protection and complements your style.
What to do if your phone case doesn't fit?
It can be frustrating when you purchase a new case only to find out it doesn't fit your phone. But fear not! There are a few steps you can take to resolve this issue.
Double-check the compatibility of the phone case with your specific model. While some cases may claim to be universal or compatible with multiple models, it's always best to confirm whether they are designed specifically for your Google Pixel 8 Pro.
If you've confirmed that the phone case is meant for your model but still doesn't fit properly, consider contacting customer support or the manufacturer. They might have some suggestions or even provide a replacement if there was an error in manufacturing.
Alternatively, you could explore other options such as using a temporary solution like adhesive tape or customizing the case by trimming or modifying its design. However, exercise caution and ensure that any modifications don't compromise the protection provided by the case.
Factors to consider for optimal compatibility
There are a few factors to consider when choosing the best phone case for the Google Pixel 8 Pro. While the dimensions of the Google Pixel 7 Pro and Pixel 8 Pro may not be identical, that doesn't mean you can't find a suitable case. Here's what you need to keep in mind:
Check for Compatibility: Before purchasing a phone case, make sure it is specifically designed for the Google Pixel 8 Pro. Look out for product descriptions or labels that mention compatibility with your model.
Measure Your Phone: To ensure a snug fit, carefully measure your Google Pixel 8 Pro before buying a case. Pay attention to length and width measurements, as slight variations can affect how well the case fits.
Flexible Materials: Opting for cases made from flexible materials like silicone or TPU can increase the chances of compatibility across different models as they tend to offer more stretch and flexibility.
Button Cutouts: One important aspect of phone cases is their cutouts for buttons and ports. Ensure that any potential case has precise cutouts aligned with those on your specific device model so that all functions remain easily accessible.
Camera Compatibility: The camera setup on each smartphone model may differ slightly in size and placement. Ensure that the camera cutout on the case matches perfectly with your Google Pixel 8 Pro, allowing unobstructed use without compromising image quality.
Brand Recommendations: Certain reputable brands may provide information about cross-compatibility between their older model cases and new releases like the Google Pixel 8 Pro. It's worth exploring these options if you want to use an existing brand or have had positive experiences.
After understanding the dimension differences between the two cases, it's important to note that your old case may not fit the new Google Pixel 8 Pro due to its unique dimensions.
4 best protective Google Pixel 8 Pro cases
After confirming whether the Google Pixel 7 Pro case will fit the new Google Pixel 8 Pro. It is important to explore options for the most useful cases for the Pixel 8 Pro. However, having a reliable and sturdy phone case is essential. With many designs and styles available in the market, finding the best one can take time and effort. However, we have curated a list of the four best protective Google Pixel 8 Pro cases and covers that offer style and durability.
1- MagSafe ring case with kickstand and hand Grip
The MagSafe ring case with kickstand and hand grip is a game-changer for Google Pixel 8 Pro users. This innovative case not only provides reliable protection but also offers added functionality and convenience.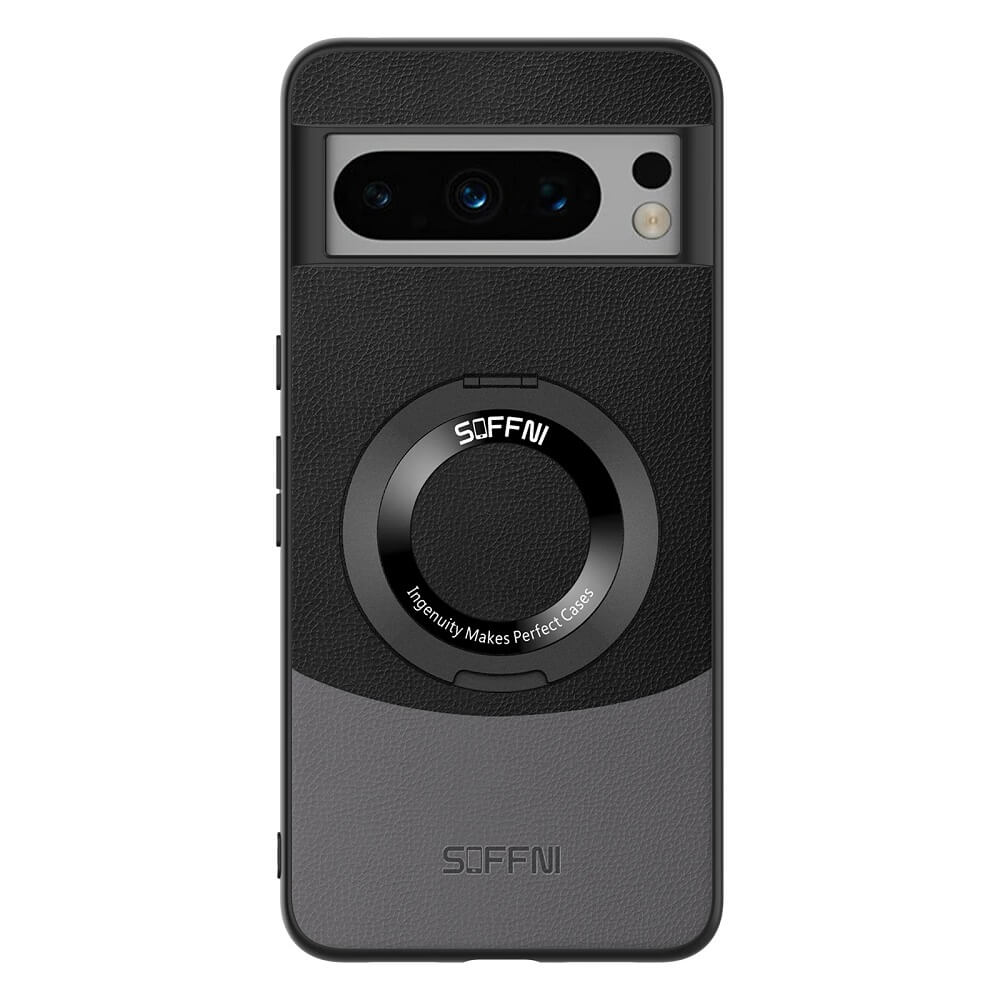 The built-in magnets in this case ensure secure wireless charging with your Pixel 8 Pro. Additionally, it allows for easy attachment of compatible accessories like docks or car mounts. It's truly a seamless experience!
But that's not all – this case also comes with a kickstand and hand grip. The kickstand lets you prop up your phone at the perfect angle for watching videos or participating in hands-free video calls. No more searching for makeshift stands!
Additionally, the hand grip feature provides extra security when holding your phone. With its ergonomic design and textured surface, you can confidently navigate your daily tasks without worrying about accidentally dropping it.
2- Liquid silicone case
The liquid silicone case is popular among Google Pixel 8 Pro users for its ultra-slim design and anti-yellowing feature. This case is made from high-quality material and offers excellent protection against scratches, and everyday wear and tear.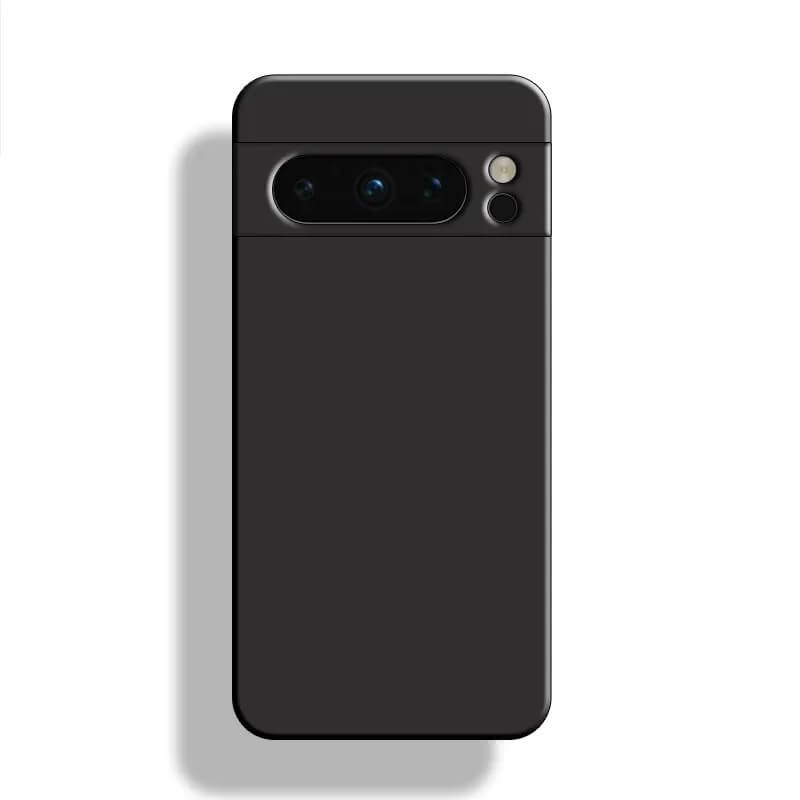 One of the standout features of the liquid silicone phone case is its soft and smooth texture. It also provides a comfortable grip, making it easy to hold your phone securely without worrying about accidental slips or drops.
This case also features precise cutouts for all ports, buttons, and speakers, ensuring easy access to all functions of your Google Pixel 8 Pro. Plus, it supports wireless charging so you can conveniently charge your device without removing the case.
2- Carbon fiber phone case
When protecting your Google Pixel 8 Pro, a carbon fiber case is another excellent choice. Not only does it provide optimal protection. But it also adds a classy look to your phone.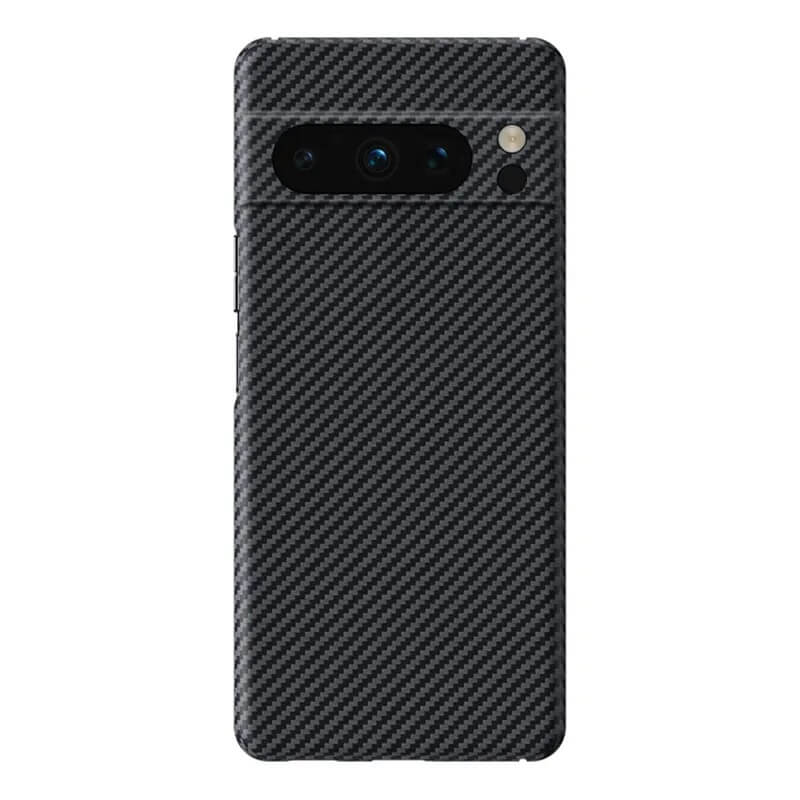 One of the key benefits of a carbon fiber case is its durability. Carbon fiber is known for being incredibly strong and lightweight, making it the ideal material for cases. It can withstand daily wear and tear without adding bulk or weight to your phone.
Another advantage of a carbon fiber phone case is its ability to absorb shock. Its high tensile strength offers reliable protection. Knowing that your Google Pixel 8 Pro is well-guarded in this rugged yet sophisticated case.
If you want durability in a protective phone case for your Google Pixel 8 Pro, consider investing in a carbon fiber option. Its strength, lightweight design, and shock-absorbing properties make it an excellent choice for safeguarding your device from everyday hazards without compromising aesthetics.
3- Crossbody clear phone case with cord
Crossbody clear cases with cords are a trendy and functional accessory for your Google Pixel 8 Pro. The design allows you to showcase the elegant aesthetics of your smartphone while keeping it safe from scratches and everyday wear.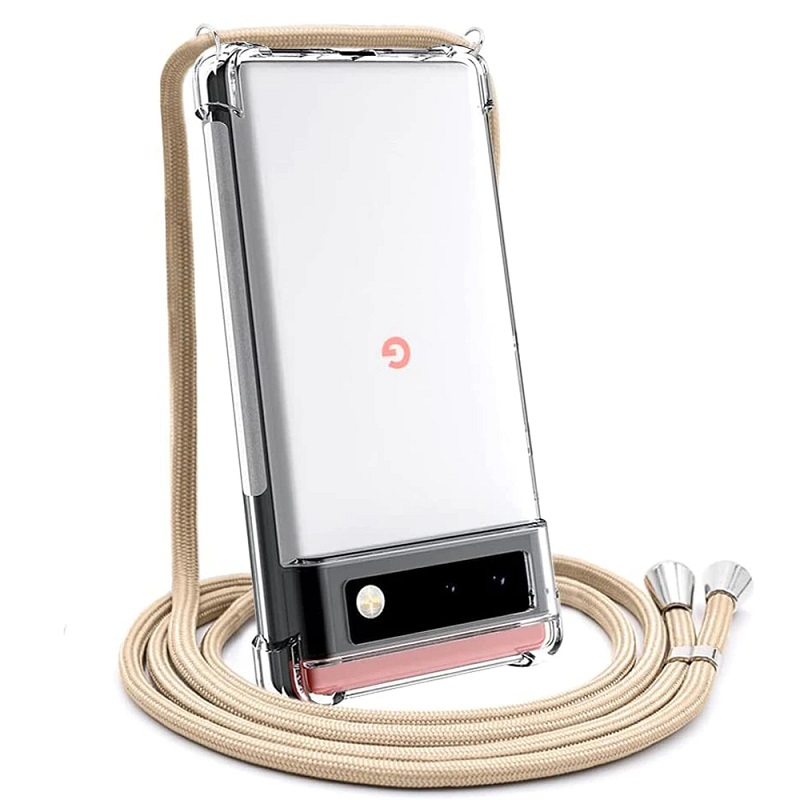 The crossbody feature adds an extra layer of functionality, allowing you to keep your hands free while having easy access to your phone. Whether running errands, attending events, or simply going about your daily activities, this case keeps your device within reach.
The cord attached to the case is adjustable, allowing you to find the perfect length that suits your needs. It can be worn across the body or over one shoulder, providing a comfortable and secure way to carry your phone wherever you go.
A crossbody clear phone case with a cord is both practical and stylish. It offers protection for your Google Pixel 8 Pro while keeping it accessible at all times. Its adjustable strap and additional storage options make it an excellent choice for those who value convenience without compromising on fashion-forward design!
Conclusion
If you're wondering whether Google Pixel 7 Pro cases fit the Google Pixel 8 Pro, the answer is no. While both phones may belong to the same series, they have different dimensions and designs. Considering these factors when purchasing a phone case is important to ensure optimal compatibility.
If you find a case that doesn't fit your new Google Pixel 8 Pro, don't fret! There are several options available to remedy the situation. You can either return or exchange the case for one specifically designed for your device or explore other protective options that are compatible with your phone.
Also read: