In this blog post, we'll dive into the world of phone cases to help you determine if your current one will do the job or maybe it's time to start shopping for a stylish upgrade. So grab your coffee, and let's find out together – does an iPhone 14 case fit an iPhone 15?!
Is iPhone 15 the Same Size as iPhone 14?
This is a question that many iPhone users ask when they upgrade to the latest model. With each new release, Apple often makes slight changes to the dimensions and design of their iPhones, which can affect compatibility with existing cases.
When comparing the dimensions of the iPhone 15 and iPhone 14, there are only slight differences between the two models. The iPhone 15 measures approximately 71.6 x 147.6 x 7.80 mm, while the iPhone 14 comes in at around 146.7 x 71.5 x 7.8 mm.
As for the Plus models, the iPhone 15 Plus has about 77.8 x 160.9 x 7.80 mm dimensions, while the iPhone 14 Plus measures around 160.8 x 78.1 x 7.8 mm. These variations in size are minimal and may not be easily noticeable.
In terms of weight, the iPhone 15 is slightly lighter than the iPhone 14, but the difference is marginal. These dimensions show that the iPhone 15 maintains a similar form factor to its predecessor, with only slight adjustments to optimize its design and functionality.
Will Your Old iPhone 14 Case Fit the New iPhone 15?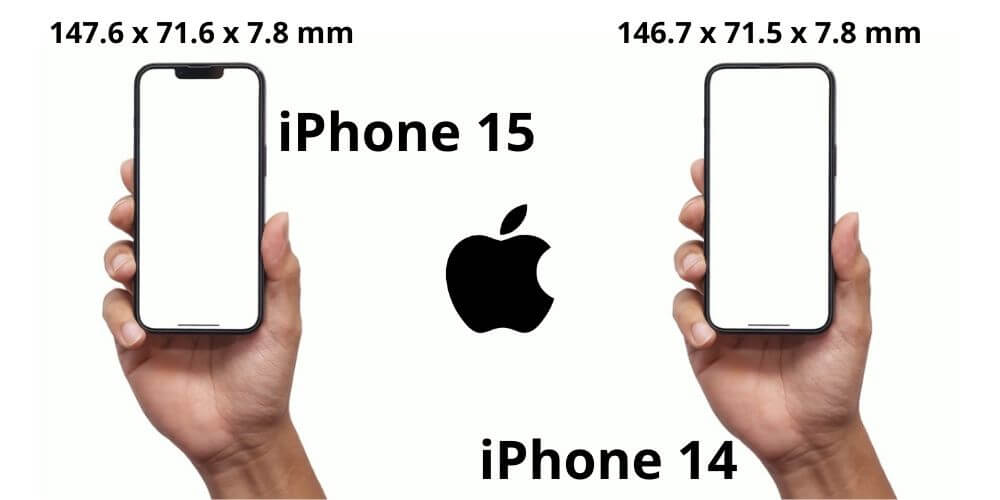 No, the iPhone 14 case will not fit the iPhone 15 perfectly. While you can try using your iPhone 14 case on the iPhone 15, some differences in design may affect the fit. The iPhone 15 has a slightly different height than the iPhone 14. So the case may not align perfectly with the buttons and ports.
Additionally, the corners and edges of the iPhone 15 are curvier than the iPhone 14, so the case may not hug the phone as snugly. It's always best to use a case specifically designed for your iPhone model to ensure the best fit and protection.
What Cases Fit iPhone 15?
There are several durable and protective cases available that are specifically designed to fit the iPhone 15. Many popular case manufacturers, such as Waw Case, Spigen, and Caseology, have already released iPhone 15 cases that perfectly fit the device.
These cases feature precise cutouts for the buttons, ports, and cameras of the iPhone 15, ensuring easy access and functionality. Additionally, some case brands offer a variety of styles and materials to suit different preferences, including slim cases, shockproof cases, clear cases, and wallet cases.
It is recommended to check the compatibility information the case manufacturer provides to ensure that the case you choose is specifically designed for the iPhone 15, guaranteeing a snug fit and optimal protection for your phone.
How To Know if a Case Will Fit iPhone 15?
So, knowing if a case is compatible with your device before purchasing is important.
Take note of the specific model number of your iPhone 15. This information can usually be found in the settings or on the back of your phone. Then, when searching for cases online, check if they explicitly state compatibility with the iPhone 15 or mention its model number.
Another way to ensure compatibility is by checking for precise cutouts and button placements on the case. The camera module, charging port, speakers, and buttons should align perfectly with those on your iPhone 15.
Reading customer reviews can also provide valuable insights into whether a particular cover fits well. Look for feedback from users who purchased and used that specific case on iPhone 15.
Remember, even though some cases marketed as "universal" may claim to fit multiple models, including the iPhone 14 and 15. It's always best to opt for a case specifically designed for your exact model.
Conclusion
The answer is no if you're wondering whether your old iPhone 14 case will fit the new iPhone 15. The dimensions and design of each model are different, which means that cases specifically made for one model may not be compatible with the other.
Additionally, while some older generation cases might physically fit onto an iPhone 15 due to similar overall size or button placement, they may only offer proper functionality or full access to some ports and features. Investing in a case designed specifically for your particular model is always best.
Following these simple steps, you can confidently find an iPhone case that fits your device like a glove while providing optimal protection. So go ahead and shop confidently knowing you've made an informed decision about your beloved phone accessory!
Similar topics: