Today we're going to talk about how to clean your cell phone from viruses, germs, and other bacteria. The Corona Virus has been all over the news lately. And so it's become vitally important for us not only washing our hands for 20 secs but also disinfecting the surfaces that we touch the most often. We use our phones all the time.
Keep your phone clean during a coronavirus outbreak
So the question is: 'Can our phones actually be carriers for this virus'? Unfortunately, the answer is definitely YES Microbiologist from the University of Arizona reported that cell phone carries 10 times the amount of bacteria as the typical toilet seat. So, yes, we need to clean our phone from bacteria, germs, and viruses.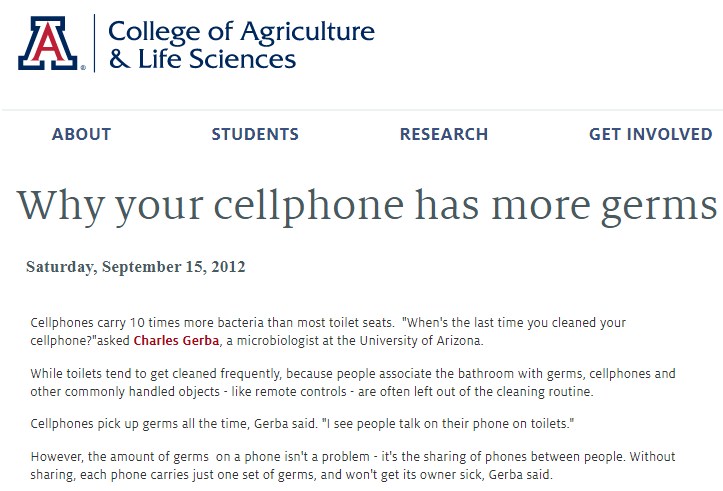 What is an oleophobic coating on the screen of your iPhone?
An iPhone 8, or later versions, has a special coating on the front and back, to create shine and protection. It's called 'oleophobic coating. Oleophobic comes from the Greek word for oil which is 'oleo' and 'phobic', the Greek word for fear, and it refers to the smudge-resistant coating, protecting your iPhone against dirt. It's really important to keep this oleophobic coating intact on your iPhone. Removing this coating will make the screen not look as bright or shiny.
It might get more fingerprints and more smudges and if you damage this coating by using the wrong cleaning product, it's not covered. Under the iPhone's warranty, a cracked screen isn't covered whether you crack it or whether you wipe off the protective coating.
Use a soft microfiber cloth to wipe off your iPhone.
Even a paper towel can wipe off the oleophobic coating and that's the last thing you want to do. So just remove the phone case, and wipe it off. But be sure to unplug your phone first.
The newer iPhones are water-resistant, but please, refrain from using liquids. You could damage the phone, Apple recently updated its website with an FAQ on this topic. Apple says is it okay to use a disinfectant such as a 70% isopropyl alcohol wipe or Clorox disinfecting wipes. Gently wipe the exterior surfaces of your iPhone. Don't use bleach.
Avoid getting moisture in any openings and don't submerge your iPhone in any cleaning agents.
Clean your phone from viruses using Clorox and other disinfecting wipes
Check the label on cleansing bacteria on hard and non-porous surfaces. Most like it states it takes two minutes to cleanse.
So wipe, and leave on for two minutes to air-dry.  Some labels list 4 minutes of time to remove all bacteria and viruses from your phone.
What not use to disinfect your phone from coronavirus
So do not use it to clean your phone from coronavirus – according to Apple -and cleaners like window cleaners, household cleaners, rubbing alcohol, Compressed air, aerosol sprays, solvents, and vodka.
It's true. There's not enough alcohol and vodka to kill the coronavirus, ammonia, or abrasives to clean your iPhone, and abrasives mean any material that can scratch your iPhone screen including paper towels not because it can scratch the glass surface screen but because it will wipe off the oleophobic coating.
So you want to use a microfiber cloth or a lens cloth. It is something that is extremely soft and if you're using an alcohol solution like 70% alcohol, for instance, you could just put a little bit on the cloth first and then wipe your phone with it.
There are other ways to clean phone cases from germs, bacteria, and viruses but you might not be able to get your hands on one of them right now because of the Corona Virus. one of them is called Phones soap and it's a SmartPhone UV sanitizer. They say you can't wash your phone. But you can sanitize it with foam soap. ultraviolet light is a well-known disinfector.