Description
Enhance your phone experience with our beautifully crafted wood grain MagSafe iPhone case. It's designed to protect your device while adding a touch of sophistication. This wood design phone case offers reliable protection against everyday bumps and scratches. The precisely engineered cutouts ensure easy access to all ports, buttons, and features without compromising the sleek design.
The premium texture enhances the visual appeal and provides a comfortable grip that feels great in your hand. With its built-in magnetic technology, our MagSafe-compatible case seamlessly attaches to your iPhone for effortless wireless charging compatibility.
Say goodbye to tangled cables and enjoy the convenience of fast wireless charging whenever you need it. Our wooden iPhone case's slim profile maintains your device's original form factor while offering complete protection. It effortlessly slides into pockets or bags without adding unnecessary bulk or weight.
Choose elegance and reliability for your beloved phone by investing in our wood grain design MagSafe iPhone case. Ideally suited for professionals like you who value style and practicality, this case will elevate the look of your device while providing ultimate peace of mind.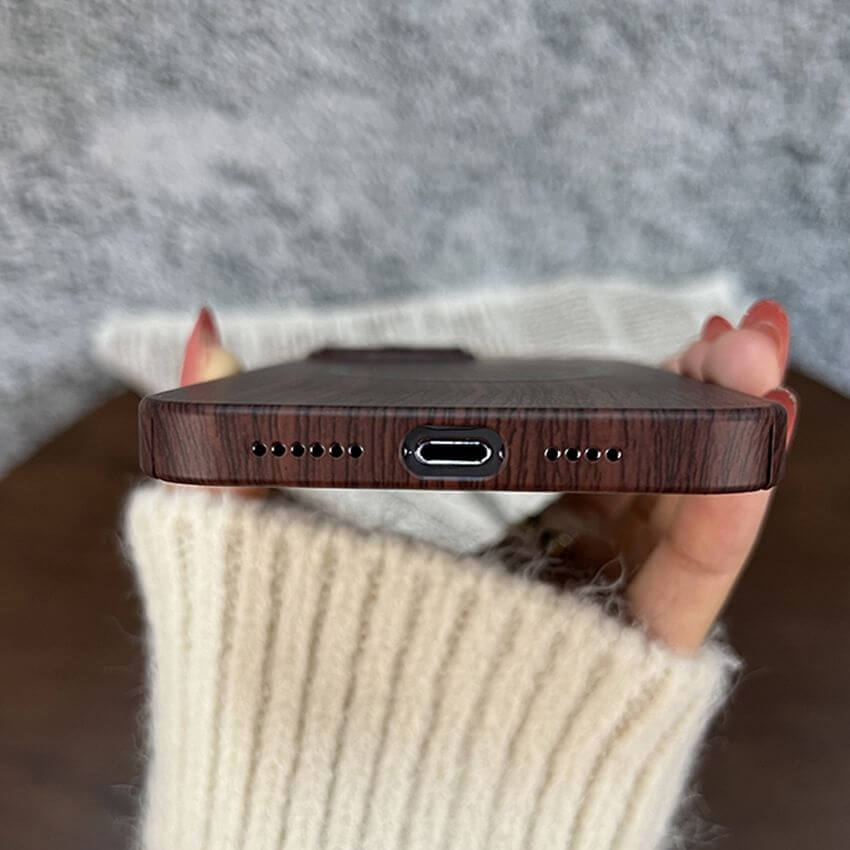 Wood Design MagSafe iPhone Case Features:
Compatible Phone Model: iPhone 14, iPhone 14 Pro, iPhone 14 Plus, iPhone 14 Pro Max, iPhone 13, iPhone 13 Pro, iPhone 13 Pro Max, and iPhone 12/11 Series
Function: Magnetic, anti-scratch, dustproof, non-slip, water-resistant, wireless charging
Type: Wooden phone case
Material: Woodgrain
Colors: Brown
Customer Satisfaction:
High-quality product that meets or exceeds customer expectations.
Excellent customer service, promptly addressing inquiries and resolving issues.
Efficient order processing and timely delivery to ensure customer satisfaction.
Guarantee:
Product guarantee or warranty to provide reassurance to customers.
Commitment to replace any defective product within a specified period.
Money-back guarantee if the customer is not satisfied with the product.
Dedicated customer support to handle guarantee-related queries and claims.
Returns:
Hassle-free and easy return process for customers.
Free return shipping or convenient drop-off locations.
Quick refund or exchange of the returned product.
Assistance and guidance from customer support throughout the return process.