Description
Keeping track of your phone when attending festivals, concerts, going on a hike, or just heading to the bar on the weekend can be difficult if you don't want to carry around a big bulky bag everywhere you go. With this silicone necklace iPhone case, you can easily keep your phone close at hand, thanks to the lanyard that allows you to wear it around your neck.
Compatible with iPhone 11, iPhone 11 Pro, and iPhone 11 Pro Max, the phone case features a heavy, durable lanyard string that allows it to function as an iPhone case with necklace cords so you can wear around your neck when not in use. Its length permits you to easily pick it up and use it without having to remove it from around your neck to do so.
This iPhone case with a crossbody strap is available in several colors, you can find one that suits your unique personality and tastes while ensuring you never again lose your phone on the go.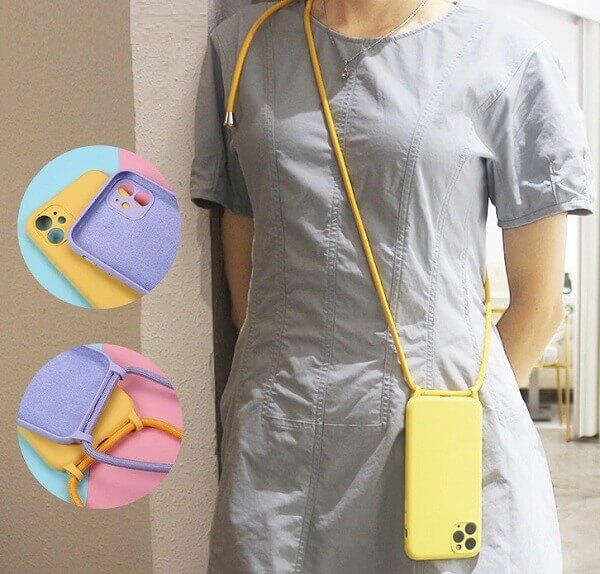 Luxury Necklace iPhone Case With Lanyard
Type: Fitted Case
Features: Protective iPhone case with a necklace
Compatible Brand: Apple iPhones
Compatible iPhone Model: iPhone 11, iPhone 11 Pro, iPhone 11 Pro Max
Design: Matte, Plain
Function: Dirt-resistant, Anti-knock, Heavy Duty Protection
Color: 12 Colors
Material: High-Quality Soft Silicone + Lanyard
Rope material: Sturdy Colorful Nylon
Package Includes: Phone case with lanyard
Check out our new liquid silicone iPhone 12 Mini case for girls, boys, women, and men. We have many covers to suit your personality.
WHY SHOULD YOU CHOOSE US?
We will cover your order and ensure the parcel! If something happens to the tray during the shipment, we will be responsible for it.
Delivery right to the door of your home or office!
Friendly customer service who will always be happy to help you!
We give you a 30-day money-back guarantee if you don't like your product just return your item and we will refund your money.
Our office hours are :
9:00 a.m. to 6:00 p.m. (GMT +8) of Monday to Friday
9:00 a.m. to 1:00 p.m. (GMT +8) of Saturday
And our office is closed on Sunday and public holidays
We apologize for the late reply during the holidays
Any questions? Write to us at admin@wawcase.com