Description
When you're on the go, you want your phone close at hand without having to weigh you down with a handbag or purse. This silicone iPhone case with an adjustable lanyard is going to be exactly what you want most because it will clip to the included solid crossbody strap that you can then loop around your neck or over a shoulder so that it's close by at all times. All that convenience and it protects your phone? Perfect.
Choose from different lanyards iPhone cases including yellow, purple, pink, and army green to get the right style for your need
Protect silicone phone case with a crossbody strap that is color-coordinated
Fits the most modern phone models such as iPhone 14, 13 Pro, 12, 11, and Xs, Xr, and more.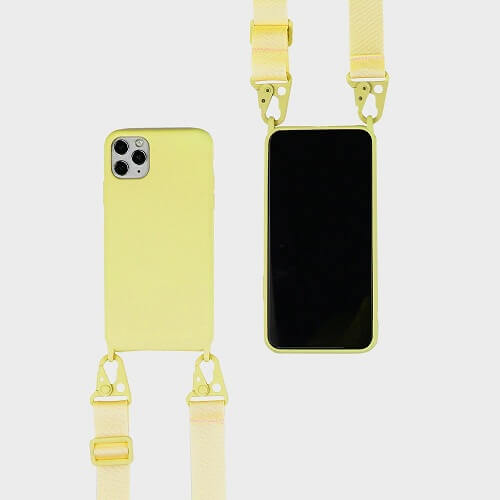 Silicone Phone Case With Crossbody Strap Features:
Compatible Brand: Apple iPhones
Compatible iPhone Model: iPhone Xs, iPhone XR, iPhone Xs Max, iPhone 11, iPhone 11 Pro, iPhone 11 Pro Max, iPhone 12, iPhone 12 Mini, iPhone 12 Pro, iPhone 12 Pro Max, iPhone 13, iPhone 13 Pro, iPhone 13 Pro Max, iPhone 14, iPhone 14 Pro, iPhone 14 Max, iPhone 14 Pro Max.
Type: Half-wrapped case
Features: Luxury silicone iPhone case with an adjustable lanyard
Size: 4.7, 5.5, 5.8, 6.1, 6.5
Design: Plain
Function: Waterproof, dirt-resistant, anti-knock
Item: Liquid silicone phone case with crossbody strap
Color: Black, pink, army green, yellow, purple, sky blue
Material: Silicone
Function: Anti-knock, phone case holder, crossbody phone case
Packages: Silicone iPhone Case With Lanyard
Note: For any inquiries regarding S20 gel cases with finger rings that are not listed, please contact us during office hours
Our office  hours are :
9:00  a.m.  to  6:00 p.m.  (GMT +8)  of  Monday  to  Friday
9:00  a.m.  to  1:00 p.m.  (GMT +8)  on  Saturday
Any questions?
Write to us at  admin@wawcase.com
Our 5-point customer  promise:
30-day  Money-back  guarantee
Tracking number for every order
Safe Payments via 2Checkout®?  or PayPal®?
Real  people on  our internet  helpdesk
Free Shipping  on all products