Description
Cute, chic, and full of personality, the love heart iPhone case with a hand strap is a fun phone cover that is as adorable to look at as it is comfortable to hold.
Along with the adorable hearts in the center of the back of the case and along the sides, this love heart case also comes with a hand strap holder on the back. The strap gives you a better hold of your phone, helping to eliminate the frequency of drops. Each shockproof case comes in your choice of shades of pink, mint green, or black to suit your taste. Our gold plated phone case is available for iPhone 13, 12, 11 Pro Max.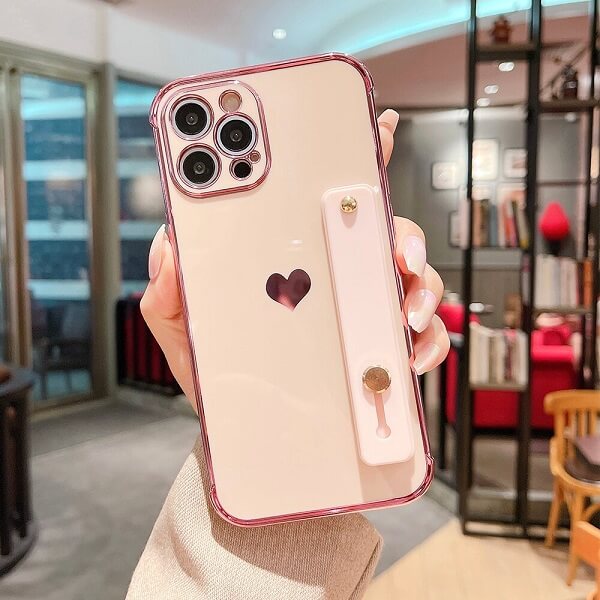 Love Heart iPhone Case With Hand Strap Holder Features:
Compatible brand models: iPhone 11 Pro, iPhone 11 Pro Max, iPhone 12, iPhone 12 Pro, iPhone 12 Pro Max, iPhone 13, iPhone 13 Pro, iPhone 13 Pro Max
Type: Shockproof, camera protection
Features: Wireless charging, wrist band, anti-scratch, water-resistant, anti-scratch, underwater, reflective, non-slip, lightweight, holder
Design: Plain, glitter, logo
Material: Electroplated soft TPU
Color: Black, green, white, purple, pink
Pattern: LOVE heart
Style: Korean Ins style
Package: Heart case with hand strap holder
If you are looking for the Samsung s21 cases or any other phone models such as iPhone X, please do not hesitate to contact us during business hours.
Shipping?
Free worldwide shipping
Guaranteed safe + secure checkout
100% money-back guarantee
Not sold in stores, limited quantity available
Our office hours are :
9:00 a.m. to 6:00 p.m. (GMT +8) of Monday to Friday
9:00 a.m. to 1:00 p.m. (GMT +8) of Saturday
Contact us at admin@wawcase.com